N162JC
When boarding our Gulfstream G-V N162JC, you will immediately recognize the oversized 14-passenger luxurious cabin, configured with 8 executive seats and (2) 3-place divans finished in an earth tone palette of hand-stitched leather and plush fabrics. The cabin's oversized chairs and divans convert into berthable sleepers for up to 6 passengers and are perfect for long transoceanic flights. A distinguishing feature of this world-class aircraft is that the aft section of the cabin can be secluded from the rest of the cabin and made into a private state-room with full sized bed and private aft lavatory and dressing room.
There is a second lavatory in the front of the cabin as well.Other cabin features include a full gourmet galley, open bar, world-wide WiFi internet, satellite phone with multiple cabin handsets, entertainment system with direct TV, CD/DVD player, Playstation, iPod interface, and Airshow map display.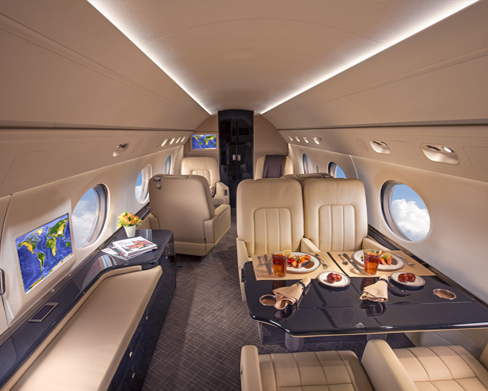 Plane Layout
Executive-class Seating for 14 Passengers. Fully Berthed Sleeping Accommodations for 6 Passengers.
Move mouse over to view sleeping arrangements.

---